Joan's Movie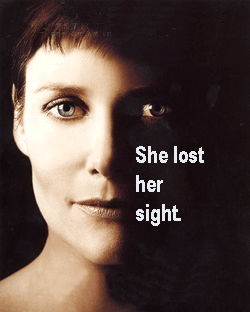 The press is talking about Joan's movie,
More Than Meets The Eye: The Joan Brock Story!
ARIZONA DAILY STAR says "Pathos, drama and a happily-ever-after ending"

Clip from the Lifetime Movie
"More than Meets the Eye"
The script for More Than Meets The Eye: The Joan Brock Story was proudly submitted for the The HUMANITAS Prize, given by the Paulist Committee. The HUMANITAS Prize honors stories that affirm the dignity of the human person, probe the meaning of life, and enlighten the use of human freedom. The stories reveal common humanity, so that love may come to permeate the human family and help liberate, enrich and unify society.
Joan with Jamie Johnston. Jamie is the young actor who played 'Corey' in the movie! Jamie won the Young Artist's Award, on May 9, 2004, for Supporting Actor in More Than Meets The Eye: The Joan Brock Story!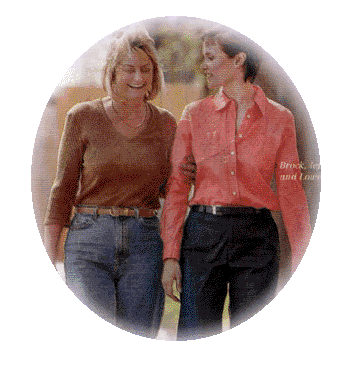 Hi Joan
This evening I saw your movie on the Hallmark channel. My favorite movies are those based on real events. I guess I like them because it's easier to relate to real people in the real world. I love my work as a programmer and I can not imagine what I would do without my sight. Therefore I admire the way you have moved on. You are a great inspiration for everybody. Thanks to you many people will realize that they can do much more than they think. Thank you for sharing your story with the world. I wish all the best for you and your family.
Best regards,
Jette Derriche
35 year old female, Denmark
---
A light in the darkness
By Bonnie Henry
ARIZONA DAILY STAR
Pathos, drama and a happily-ever-after ending. What more do you need in a movie? Oh, one more thing: It's a true story.
Three times beginning Monday, Lifetime Television for Women will broadcast "More than Meets the Eye: The Joan Brock Story." "People ask me how it feels to have a movie made of my life," says Joan Brock, as she sprawls across the living room floor of her comfortable Sabino Canyon home. "I'm excited, scared. It's surreal. There's a whole range of emotions." And plenty of emotion will no doubt be packed into what promises to be a three-hanky movie.
In 1984, Joan, then 32, lost her vision after a lupus-like condition attacked her retinas. It would get worse. Five years later, her husband, Joe, would succumb to cancer, leaving her alone to raise their 8-year-old daughter, Joy. But Brock had a couple of things going for her: One, she had taught – before and after the blindness set in – at a school for the blind in Iowa. And two: She was already an experienced speaker, talking about the accomplishments of the blind.
After her husband's death, Brock started writing her autobiography, "More than Meets the Eye," which was published in 1994. Two years earlier, she had met and married Tucsonan Jim Brock, who has written several books on butterflies.
Today, Joan Brock continues to be a sought-out speaker on the national circuit, addressing groups including vision professionals and migrant workers. "My speeches are based on my life story but I can adapt it to different groups," says Joan.
It was late in 2001 when a mutual friend of Joan's passed her book along to independent producers Mike Bremer and Paul Goff. A few months later, Hollywood came calling. "We were sitting on the front porch. Jim was watching butterflies and the phone rang," says Joan."It was them, saying they were interested." In May2002, the two producers, along with screenwriter Susan Nanus, met Joan in Tucson. Not long after, they took in a speech she was making in San Diego. "They saw what I do as a professional woman – not just as a blind person – to help and inspire people," says Joan. After San Diego, the writer got busy on the screenplay. "She sent me a treatment," says Joan, laughing at how she's picked up the lingo. Though the basic outline of Joan's life remains intact, some artistic license has been taken. Because the movie was filmed entirely in Winnipeg, Canada, neither Tucson nor Bakersfield, Calif., Joan's hometown, figure in the story line. "They don't look like Winnipeg," says Joan. In real life, Jim flew Joan to Tucson early in their courtship and together they released a butterfly. "For the movie, they had butterfly wranglers in the area, raising butterflies," says Jim, who was also on the set. "To do that one scene, they did tons of takes." Carey Lowell, who used to play prosecutor Jamie Ross on TV's "Law and Order," portrays Joan. The two hit it off right from the start. "She asked my opinion on things," says Joan, who spent several days on the set as a paid consultant. She, Jim and Joy – who just graduated from Northern Arizona University – all have a cameo in the movie. The story airs Monday at 9 and 11 p.m.; June 20 at 9 p.m.; and June 29 at 3 p.m.
"I just hope the film will touch hearts and give people hope," says Joan.
Count on it.
---


Blind trust
Sightless subject of TV movie shooting in city sings praises of
Carey Lowell, the actor portraying her
Thursday, May 15th, 2003
Reel Life By Randall King
JOAN BROCK has never actually seen Carey Lowell, the actor playing her in a TV movie, More Than Meets the Eye.
Brock went blind in 1984.
Lowell didn't become a universally recognized actor until 1989, when she starred in the James Bond movie License to Kill. Still, Brock knows Lowell, a former fashion model, is beautiful and she suggests this is one aspect of how the movie will deviate from reality.
"We look nothing alike and that's a good thing," Brock says, while attending the movie shoot in Charleswood this week. "Who wouldn't want to look like Carey Lowell?"
Brock, 51, is surely being self-deprecating. She's attractive, too, albeit in the mode of a blond, tanned, earthy California Girl, as opposed to Lowell's more angular, darker, New York-steeped beauty. Not that appearances matter, anyway. More Than Meets The Eye may deviate gently from the facts of Brock's remarkable story, but the gist of it remains in Brock's survival, and ultimate triumph.
Brock was a teacher at an Iowa school for the blind when she herself went blind, in February of '84, due to a previously undiagnosed auto-immune deficiency.
"In three weeks, it attacked the veins in the retina and caused macular degeneration," Brock says. "My husband died in February five years later," she adds.
"I don't like February."
* * *
On this day, Lowell is portraying the sighted Brock, leaving work at the Iowa Braille School (in reality, the Canadian Mennonite University) and stopping to chat with her husband Joe Beringer, a gym teacher preparing to play a game of "beeper ball" with his blind students. Joining Joan on the Shaftsbury Street set are Joan's second husband Jim Brock and her daughter Joy Beringer, now 22 and, as of last week, a graduate from Northern Arizona University in Flagstaff. Joan is pleased. She says the story is as much Joy's as it is hers. "She's about the closest thing to all of the moments that anybody is. She was involved in absolutely every aspect of our fun moments and joyous moments and unbelievably sad how-can-this-be? kind of moments, she was right there. And she's been my rock." "It's a dramatic story, but I think what touched me was just that it was an inspiring story about a woman who faced a lot of adversity and tragedy and overcame it," says Lowell, 42, who has been in Winnipeg making the movie since mid-April. "She not only overcame it but now inspires other people to do the same." Lowell is referring to Brock's second career as a motivational speaker, as well as co-author of the book More Than Meets the Eye. "She's an inspiration and I think that's really remarkable," Lowell says.
Brock describes that career as "Giving hope to people who go through difficult stuff." She simply encourages people who have experienced personal or career setbacks to "push forward." "That doesn't mean you don't have a difficult time at first going through it. It's just getting through it and then finding that light at the end of the tunnel, where you go: "I get it. I can do this.'" That attitude no doubt helped Brock herself when it came time to witness significant moments of her life reproduced for film. "I've seen some of the more poignant moments of my life, like the scene where I walked into the library of my school and grabbed a book and I realized something was even worse on that particular day. I could no longer see the printed words. "And I saw (Lowell) react to that and that was pretty powerful for me," she says, explaining that the crew helped her listen to the scene by giving her a set of headphones. "That was the moment where in my heart and in my gut instincts, I knew where this was headed. "And Carey did such a good job," Brock says. "It's hard to act blind when you're not blind. I wouldn't wish it on anyone. So that's been an interesting journey for her and she's done it beautifully." "Carey Lowell is blowing us away," says executive producer Paul Goff. "Literally, within meeting her, it was: How could we have ever thought of anybody else for this role? After seeing Carey do Joan Brock, we couldn't imagine anyone else in the part." One added benefit of Lowell's participation, at least for the crew, was the appearance of Lowell's husband Richard Gere on the set earlier in the shoot. Unlike Lowell, Brock had seen Richard Gere prior to her blindness, and, oh yeah, she remembers quite well what he looked like. When asked if she got to meet Gere, she comically does some deep breathing before responding. "No. I came up one weekend and I had arrived at around 2:30 on the set and he had left around 1 o'clock," she says. "All I know is: She's so great that he's got to be a wonderful person."
More Than Meets the Eye is scheduled to broadcast on the American cable network Lifetime on June 16. A Canadian broadcast has yet to be confirmed.
© 2003 Winnipeg Free Press. All Rights Reserved.
Carey Lowell Set to Star in the Lifetime Original Movie
'More Than Meets The Eye: The Joan Brock Story'
Source: Lifetime Network



Based On the True Story of a Remarkable Woman
LOS ANGELES, April 10th, 2003– Actress Carey Lowell will star in the LIFETIME Original Movie "More Than Meets the Eye: The Joan Brock Story" (working title), it was announced today by Trevor Walton, Senior Vice President, LIFETIME Original Movies.
Based on a true story, Lowell ("Law & Order," "License to Kill") plays a woman who uses humor to cope with the onset of blindness and becomes a successful motivational speaker. "This kind of inspirational and moving story is one we feel will really speak to our viewers," said Walton. "Carey is such an accomplished actress, we are confident she will bring the heart and soul of Joan Brock to life in this film."
In "More Than Meets the Eye: The Joan Brock Story," Joan Brock (Carey Lowell) is a teacher for the blind who wakes up one day to find that she is losing her sight. She is diagnosed with an accelerated condition of macular degeneration, an irreversible deterioration of the retina. Determined to go on with her life with the dignity, warmth and humor for which she is known, Joan takes her doctor up on an offer to speak to his medical students about her experiences. The impact she has on the students is more than anyone had ever imagined and Joan begins speaking in small venues around the country.
While piecing together a new social life, Joan reconnects with Jim Brock, an old high school friend and the two begin dating. Ultimately, she finds success as a motivational speaker and fulfillment in her personal relationship with Jim.
Carey Lowell is probably best known to audiences for her portrayal of Assistant District Attorney Jamie Ross on NBC's Emmy award-winning dramatic series "Law & Order." She also played Pam Bouvier in the 1989 James Bond film "License to Kill." Lowell has appeared in the feature films "Leaving Las Vegas," "Sleepless in Seattle" and "Fierce Creatures." Other credits include the television series "A League of Their Own," directed by Penny Marshall and "Big Apple," created by David Milch.
"More Than Meets the Eye: The Joan Brock Story" is produced by von Zerneck Sertner Films for Lifetime Television . Mike Robe (Lifetime Television 's "Scared Silent," "The Junction Boys") directs from a teleplay by Susan Nanus ("A Will of Their Own," "A Child's Wish"), based on the life story of Joan Brock. Executive producers are Frank von Zerneck and Robert M. Sertner ("We Were the Mulvaney's," "Scared Silent"), Michael Bremer and Paul Goff. Lowell's deal was made by her agent ICM and manager, Sue Leibman.
Lifetime Television is the leader in women's television and has been the #1 cable television network in primetime for the last two years. LIFETIME is committed to offering the highest quality entertainment and information programming, and advocating a wide range of issues affecting women and their families.
Launched in 1984, Lifetime Television serves nearly 86 million households nationwide, available on more than 11,000 cable systems and alternative delivery systems. In 1998 LIFETIME launched a 24-hour sister service, the Lifetime Movie Network, now in nearly 37 million homes, and a second sister service, Lifetime Real Women, launched in August 2001. On the web, Lifetime Online (www.lifetimetv.com) features informational resources and interactive entertainment. All four services, Lifetime Television, Lifetime Movie Network, Lifetime Real Women and Lifetime Online, are part of LIFETIME Entertainment Services, a 50/50 joint venture of The Hearst Corporation and The Walt Disney Company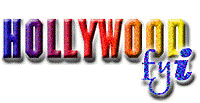 Lowell set to star in Lifetime movie
Actress Carey Lowell will star in the LIFETIME Original Movie More Than Meets the Eye: The Joan Brock Story (working title) and will air later this year. Based on a true story, Lowell plays a woman who uses humor to cope with the onset of blindness and becomes a successful motivational speaker.



Carey Lowell hasn't worked much since retiring from "Law & Order" a few years ago. But Mrs. Richard Gere finally will return to TV in June's "More Than Meets the Eye: The Joan Brock Story." The Lifetime movie focuses on a teacher for the blind who goes blind herself.