Earlier this month Joan was interviewed on the show "Contact" on AMI in Toronto Canada.   Accessible Media Inc. is a Not for Profit group in Canada keeping their disabled informed and current via new media and technology.
They talked about Joan's story and her two books, "More Than Meets the Eye" and "Come to Your Senses."  Accessible Media was kind enough to provide the audio of the interview and you can listen to it here.
Audio clip: Adobe Flash Player (version 9 or above) is required to play this audio clip. Download the latest version here. You also need to have JavaScript enabled in your browser.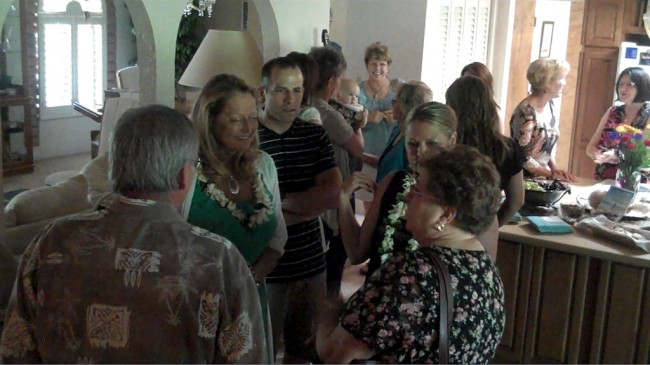 On Sunday, August 26, we had my formal Book Launching Party at our home in Tucson.  The cocktail napkins we found said, "Friends are like sea shells we collect along the way".  We couldn't have found a better  statement.  Approximately 30 of my local friends came to celebrate the early release of Come to Your Senses.
Barbara McNichol, copy editor, read from the chapter titled, SENSITIVITY.  This chapter uses the example of a lovely skycap friend I  met years ago during my travels, and the impact he had on me.  This vignette was the first I wrote in 2001.  I didn't know what the future might hold for that little story, but I am thrilled it is a part of the new book.
I was honored to sign early released books for those who bought the book with daughter joy assisting.  After a recent meeting with the publisher, Mid October is the scheduled time of availability on Amazon.com and all eBooks, so keep checking.
A good time was had by all and I again thank all of those friends that I have collected along the way … your sensitivity and kindness to my needs has been more than I could have ever asked for.
Come to Your Senses  continues to be in the editing stages.  The release date is not yet decided, but things are moving right along.  We will certainly post that when the publisher announces that information.
We have had several asking if the book will be available to those who prefer electronic books.  Yes!  It will be in both print and available to all E readers.  Amazon.com will be one source and an easy resource to receiving the book.
The Foreword to the book has been submitted (See below).  My thanks to Mike Bremer, Executive Producer of the Lifetime movie,  for his kind words and beautiful writing!
FOREWORD
It's been said that when someone loses his or her vision, the other senses compensate by becoming more acute.  In the case of Joan Brock, who lost her vision over the course of just three short weeks, it wasn't just her other 4 physical senses that stepped up to meet her new challenges, but rather a cornucopia of other senses as well.
I first met Joan ten years ago, after reading her compelling memoir, "More Than Meets The Eye," and contacted her to see if she'd be interested in letting me tell her story as a television movie.  I was immediately struck by how this woman, whose world had become a monochromatic blur of gray shadows, was able to "see" so much color in the world, and share so much of her own inner light.  As an inspirational speaker, Joan delights in the fact that "It took me going blind to see the world!"  Indeed, her talks have taken her around the world, speaking alongside such notable personalities as Henry Kissinger and Benazir Bhutto.
After making "More Than Meets The Eye: The Joan Brock Story" for Lifetime Television, I worked with Joan on her early ideas for this book.  Just as she had shown me so much with her first book about honor, grace, and humor, with "Come To Your Senses" Joan showed me how limited a quintessential life really was:  So many other "senses," I quickly learned, were not only quietly woven into each of our own personalities, but were ripe for developing, enhancing, and sharing, in order to more fully engage with our fellow man.
I am thrilled to see this inspiring book come to fruition.  Each chapter continues to surprise me with simple insights about life, as observed through senses beyond the five physical ones,  reminding me how enriched my own journey has been since the day this remarkable woman came into my life. It is with a profound sense of gratitude and sense of honor that I invite you to sit back, open your mind and your heart, and … Come to Your Senses.  
-Michael Bremer, Executive Producer,
"More Than Meets The Eye: The Joan Brock Story"