The Desert Low Vision event on June 8, 2013 was enlightening, encouraging and fun.  Thanks to all who attended and bought the book.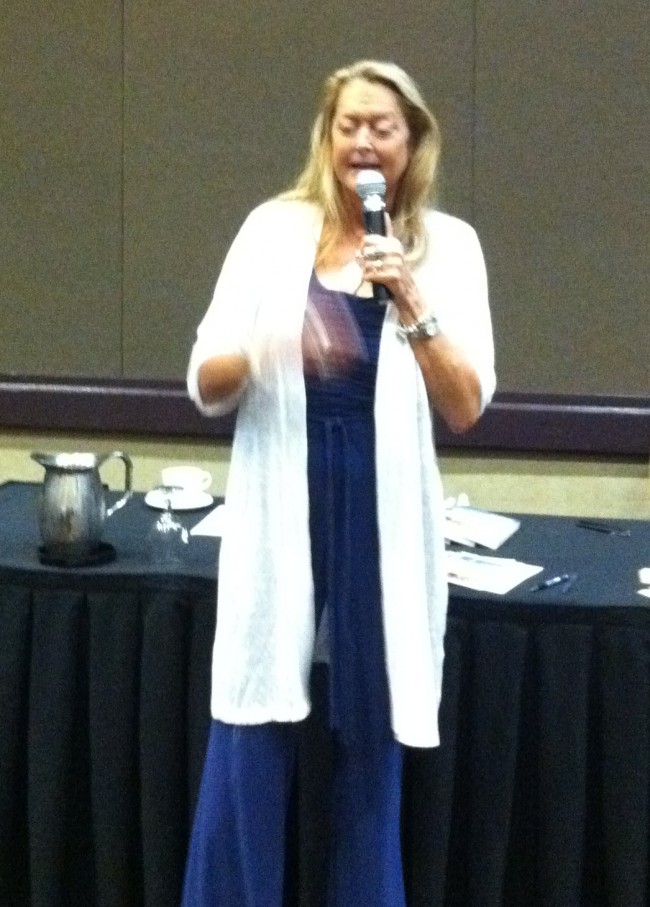 Earlier this month Joan was interviewed on the show "Contact" on AMI in Toronto Canada.   Accessible Media Inc. is a Not for Profit group in Canada keeping their disabled informed and current via new media and technology.
They talked about Joan's story and her two books, "More Than Meets the Eye" and "Come to Your Senses."  Accessible Media was kind enough to provide the audio of the interview and you can listen to it here.
Audio clip: Adobe Flash Player (version 9 or above) is required to play this audio clip. Download the latest version here. You also need to have JavaScript enabled in your browser.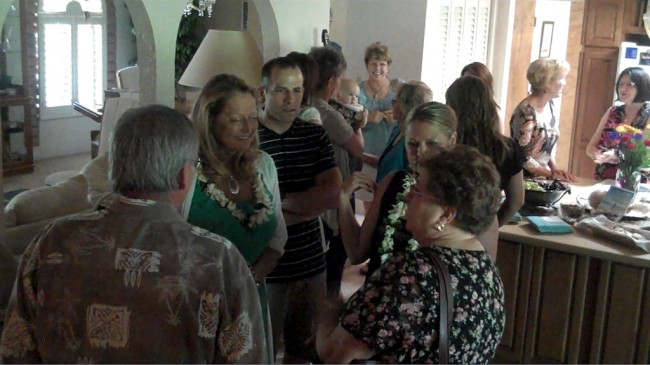 On Sunday, August 26, we had my formal Book Launching Party at our home in Tucson.  The cocktail napkins we found said, "Friends are like sea shells we collect along the way".  We couldn't have found a better  statement.  Approximately 30 of my local friends came to celebrate the early release of Come to Your Senses.
Barbara McNichol, copy editor, read from the chapter titled, SENSITIVITY.  This chapter uses the example of a lovely skycap friend I  met years ago during my travels, and the impact he had on me.  This vignette was the first I wrote in 2001.  I didn't know what the future might hold for that little story, but I am thrilled it is a part of the new book.
I was honored to sign early released books for those who bought the book with daughter joy assisting.  After a recent meeting with the publisher, Mid October is the scheduled time of availability on Amazon.com and all eBooks, so keep checking.
A good time was had by all and I again thank all of those friends that I have collected along the way … your sensitivity and kindness to my needs has been more than I could have ever asked for.
Come to Your Senses  continues to be in the editing stages.  The release date is not yet decided, but things are moving right along.  We will certainly post that when the publisher announces that information.
We have had several asking if the book will be available to those who prefer electronic books.  Yes!  It will be in both print and available to all E readers.  Amazon.com will be one source and an easy resource to receiving the book.
The Foreword to the book has been submitted (See below).  My thanks to Mike Bremer, Executive Producer of the Lifetime movie,  for his kind words and beautiful writing!
FOREWORD
It's been said that when someone loses his or her vision, the other senses compensate by becoming more acute.  In the case of Joan Brock, who lost her vision over the course of just three short weeks, it wasn't just her other 4 physical senses that stepped up to meet her new challenges, but rather a cornucopia of other senses as well.
I first met Joan ten years ago, after reading her compelling memoir, "More Than Meets The Eye," and contacted her to see if she'd be interested in letting me tell her story as a television movie.  I was immediately struck by how this woman, whose world had become a monochromatic blur of gray shadows, was able to "see" so much color in the world, and share so much of her own inner light.  As an inspirational speaker, Joan delights in the fact that "It took me going blind to see the world!"  Indeed, her talks have taken her around the world, speaking alongside such notable personalities as Henry Kissinger and Benazir Bhutto.
After making "More Than Meets The Eye: The Joan Brock Story" for Lifetime Television, I worked with Joan on her early ideas for this book.  Just as she had shown me so much with her first book about honor, grace, and humor, with "Come To Your Senses" Joan showed me how limited a quintessential life really was:  So many other "senses," I quickly learned, were not only quietly woven into each of our own personalities, but were ripe for developing, enhancing, and sharing, in order to more fully engage with our fellow man.
I am thrilled to see this inspiring book come to fruition.  Each chapter continues to surprise me with simple insights about life, as observed through senses beyond the five physical ones,  reminding me how enriched my own journey has been since the day this remarkable woman came into my life. It is with a profound sense of gratitude and sense of honor that I invite you to sit back, open your mind and your heart, and … Come to Your Senses.  
-Michael Bremer, Executive Producer,
"More Than Meets The Eye: The Joan Brock Story" 
Here's a shot of Joan speaking at Outstanding Women's Exchange, Newport News, VA on October 6, 2011.  Follow the link for more great pics taken by Van H. White.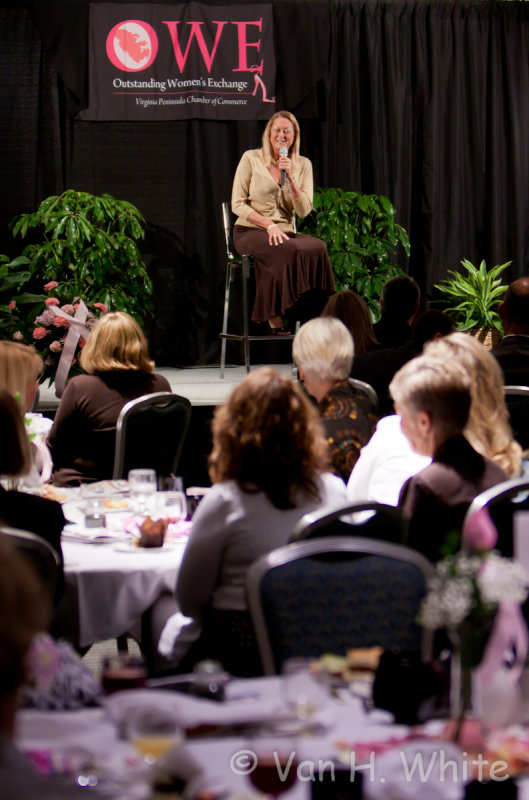 Thank You to:
A Moment of Art Photography
www.VansPhotos.com
757.848.7830, Van@VansPhotos.com
Each and every year the holidays present a time to gather, to give and to share with those we love and care about.  After the gift wrap is crumpled up and thrown away – after the New Year's hats and horns are forgotten – you are usually a little brain dead and exhausted.  One year shortly after Christmas, I decided I needed to open my home and invite 'the girls' over.   I called it…
'Thank goodness the holidays are over!'
Here were the rules sent in the invite;
* Bring anything you have that is a left over… with crumpled foil and all. (I guessed that appetizers and cookies would probably be the menu at hand.)
* Come in anything comfortable… sweat shirts and pants, slippers and non-Christmas worn sweaters are acceptable.
*Because of the massive need at the food banks, please bring a can or box of food.  They will be taken to the appropriate distribution center.
The fireplace was lit, non-holiday music was playing and they all showed up ready for a night of relaxation and laughter.  As they brought their leftovers, some with a drip down the side of the bowl, some with dried sauce on the rim… we were beginning to see the makings of a great meal.  From the remains of a cheese ball to Meatballs, from gourmet dips to vegetable dishes … everyone was enjoying the specialties from the tables of others. The food was yummy.  Some even copied down recipes for their favorite dish on hand, filing it away for next year.
No one cared what they wore or how they presented the dish of choice.  The left over Christmas paper plates and napkins were a variety of designs and sizes.  Several plopped themselves onto the floor near the fire and just enjoyed the friendships and a cup of hot apple cider or a glass of wine.  Conversations centered around how fortunate we are.   Eventually the topics also led into how hard this time of the year is for many we know and love.  Many are lonely, sick, struggling in finances and/or relationships.  The reality that these celebrations can be a time bomb for them became clear.  The realities of these issues were shared through stories of those we knew.  These examples of people we cared about only magnified how fortunate we were.
Helping through the small gesture of the contributions that we brought along that evening began to feel insignificant.  However, in the end, several grocery bags of food had been gathered, much more than I had expected.   Even though we knew the collected food wouldn't be prepared with the loving touch of all of our leftovers from that evening, and it didn't solve the problem of world hunger, they were given with the warmest of intentions.
Yes, 'thank goodness the holidays were over'.  By the end of the season we are often burned out on the same music playing, the Christmas sweater you have worn too often and the same old food that you have eaten for two weeks.  It is a welcome moment to be done with all of that, but turning that sense of relief into action was helping us all to finish the precious season on an 'up' note.
In this New Year, possibly you can call a few people after 'the holidays are over', light a candle or your fireplace and share the food we are so fortunate to have.   Or, possibly you can call that lonely loved one and simply reach out to fill their heart with your words of support.   The need is great and the gesture is an easy one.
May 2011 be filled with good health, the comfort of one that wards off the loneliness and the sense of peace that we all pray for.
Happy New Year and God go with you all!
Friends are an incredible source of life's education and information.  The quote; "People are people through others." Is a favorite of mine and this story demonstrated this to me.
I have known Tory for over 30 years, and we met during the days when we worked at the school for blind children.  We have both moved on and live far away from those days, but the friendship continues with sparatic calls and emails.
Some years ago I had an opportunity while passing through L.A. to spend time with Tory.  Now living in California, she drove us up Route 1 on the stunning coastline.   The convertible took us to a lovely spot for lunch.  Catching up with all that was happening in our lives also led to stories from the past.  Tory shared a Christmas moment that touched my heart… and has challenged me ever since.  I propose that this may also be a challenge for you.
Growing up in a small town in Iowa, most everyone knows everyone. 15 year old Tory had a little job at the local bookstore, run by old Jim. Business was slow one December and the conversation centered around the upcoming Christmas season.
"You know, Tory… the world is just so selfish. There are so many that are lonely and would give anything for even a simple chat with someone." Said Old Jim.  ""Even stopping in at the nursing home and taking a poinsettia to a lonely soul, or something like that, and saying hello to one of those people that don't have visitors, would be so easy."  He continued.
Lost in thought as he looked out the window, he said, "I think about doing things like that, but I don't know why I don't do it."
"I'll do it." Tory said.
"No you won't."
"When I say I will do something. I do it," Said Tory looking at him with her big blue eyes, filled with conviction.
As Christmas Eve rolled around, Tory had not yet had the chance to complete her promise.  Stopping by the grocery store shortly after lunch she picked up a small poinsettia and headed for the nursing home on the edge of town.
Bundled up to brave the Iowa cold, she walked with a purpose and young Tory walked in the front door. She then spoke to the woman at the front desk.
"Hi. I was wondering… is there someone here that I might visit… someone that doesn't have visitors, or something like that?"
The woman pondered for just a minute and said… "Well, yes, Mrs. P in room 112, bed A would be a good person for you to visit. I am sure she would love to have you stop in."
Carrying the festive plant that she had saved for, Tory proudly walked down the hall, passing several in wheel chairs sitting in the hallway, greeting them as she passed them.  As she walked into the room, she stepped closer to the bed and she placed the poinsettia on the bed table where the elderly woman could see it.
"Hi. I'm Tory. My mom and dad are Darlene and Louie.  I think I remember you."  Tory kept talking with a little nervous realization that the woman in the bed could not speak.
"I brought you a poinsettia… I thought you might enjoy having it?"
As she continued to just keep talking, she saw awareness in the eyes of the lonely soul.  She began telling her about all of the Christmas activities she and her family were going to be doing.  She told her about the weather and some of the sports things going on at school.
"Tonight I am going out with two of my girlfriends and we are going to go caroling in the neighborhood.  It'll be cold, but it will be fun. We don't sing to well, but that's ok."  Tory thought there might have even been a little smile in those eyes.
Not expecting that this visit would be a one sided conversation, Tory ended up chatting away for close to an hour and a half. Looking at her watch, she knew she needed to leave, and so she reached out and gave her new friend a gentle squeeze on her frail hand.
"Merry Christmas, Mrs. P. Maybe I can come back and see you again. I hope you enjoy the poinsettia."
Tory left the room with a wonderful feeling.   Old Jim would be so proud of her.    As Tory walked down the hallway and out the front door, her knowledge of the gift she had given, the time she had spent and the challenge she had accomplished gave more back to her than she could have imagined.  Young as she was, the lesson was more poignant than she could put words to.
Early that evening she headed to her girlfriend's house where they wer to meet and then start the caroling.   Shortly after she got there, Alice's mom came home from her job at the very nursing home that Tory had been to.
"Mom," said Alice, "are you ok?"
"Oh yes, I just feel a little sad." Said her mother.
Tory stood there observing this exchange in silence and a certain curiosity.
Alice's mom continued… "Just before I had to leave, I found out one of our favorite ladies passed away."
Tory's heart swelled.  Her whole body was tingling and time stood still for just a moment.  She hadn't told anyone that she had been at the nursing home, she really hadn't had time.  She really had just felt so good about it, and then life continued with other busy things.  Tory stepped forward and spoke softly…
"Do you know… did… did the woman happen to have a poinsettia sitting on her table?" Asked Tory.
"Why, yes, Tory. She did."
"Was her name Mrs. P?"
"Yes.  How did you know?"
Tory began to share her little challenge from Old Jim and explained that she had been the one to bring her the beautiful Christmas plant.  She told them about talking and talking the whole time because Mrs. P couldn't talk.  Alice's mother at that time confirmed that she had had a stroke and that she had no remaining family.
As Tory and I sat by the ocean, she reliving this poignant moment in her life, Tory said she felt sad, but also felt a sense of joy and peace in a way that she couldn't completely explain.  Yes, she had fulfilled a challenge, but the gift given back to her was more than she could express.  She has always wondered if she was the last person to have spoken with Mrs. P?  Were those eyes filled with understanding?  Did she feel comfortable enough to let go, and go to be with the baby Jesus?
Tory still visits nursing homes.  She finds someone who is lonely, which I would guess isn't too difficult.  She doesn't just visit during the Christmas season, but when this precious time of ear comes around, she does deliver a poinsettia.
I propose that, instead of wondering; 'I don't know why I don't.'… this beautiful Christmas season, Maybe you would consider to stop by the store an pick up a little Christmas plant and take it to someone who is lonely, sad or just needing the lift … you never know what that small gesture will do for a precious soul… and you have no idea what it may do for you.
Thanks for allowing me to tell your story, Tory.
God go with you all in this coming New Year, and…Merry Christmas!